With the snow flying, in Colorado, Liquid Magnesium Chloride is being used on the roads to keep intersections and streets from icing up. This, in conjunction with sanding the roads, helps our driving conditions. According to a 2002 study by the Colorado Department of Transportation, "Over four million gallons have been used per year in Colorado because it has been effective in cleaning the roads and is the most cost effective option."
WHAT IS MAGNESIUM CHLORIDE?
Magnesium Chloride is the name for the chemical compounds MgCl2 and its various hydrates MgCl2(H2O)x. These salts have many applications; such as medical, topical and culinary use. It is also widely used as an anti-icer by a number of state highway departments, who have decreased the use of rock salt and sand. This popular solution is sprayed on pavement to prevent snow and ice from adhering or bonding to the roadway. It is much less toxic to plant life and is less corrosive to concrete and steel.
WHY IS IT IMPORTANT TO WASH MY VEHICLE?
Magnesium Chloride is corrosive to metal parts, plastic, rubber and chrome. It has been know to create a number of problems on vehicles. The highly corrosive compound can eat through wires, huts, bolts and even brake shoes and rotors.
WHAT IS THAT COFFEE-LIKE FILM ON MY VEHICLE?
When the sun comes out, after a heavy snow storm, the ice and snow on the roads begin to melt. The dirt and the Magnesium Chloride mix into the slush and water on the roadway. Then, you get the sloppy, back-spray onto your car from others in front of you and road splash from your own tires creating that sticky, coffee like 'film' on your car.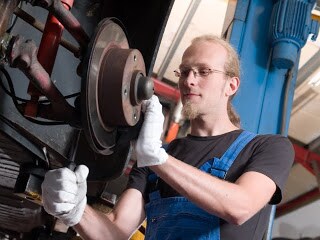 WHAT ABOUT MY CHROME TRIM PIECES?
If you leave the Magnesium Chloride on your vehicle too long it will start eating through your exterior chrome accent pieces. It will develop small spots at first and then they will develop into bigger ones and eventually ruin your chrome pieces.
DOESN'T MY WARRANTY COVER ME?
Parts, including chrome pieces are not covered. This is considered wear and tear and is a unwarrantable repair under your new vehicle warranty or extended service plan.
CLEANING:
"Why won't this stuff come off?"
According to
//www.snowplowing-contractors.com/mag_chloride.html
Magnesium Chloride is a, "odorless, not quite clear liquid solution with a viscosity resembling whole milk. Different suppliers blend in various anti-corrosion or temperature lowering additives to achieve the exact end in mind."
The liquid is meant to stick to the roadways to help decrease the freezing temperature, and to keep ice from bonding to the surface of the road making roads less hazardous. This "milky" mixture, when kicked up by other vehicles, sticks to your vehicle and dries, making it difficult to wash off.
Many high end car washes have Magnesium Chloride cleaning sprays that help remove the film off your vehicle. If you don't have a high end car wash near you, or don't want to spend the money, at least take your car through an automated washer every couple of weeks or so. It is also important to use a high-pressure washer, hot water and soap to remove the grime from your braking systems and underneath your vehicle. Every few weeks use a soapy rag and hot water to wash off your chrome pieces thoroughly.
LET MARKLEY MOTORS SERVICE DEPARTMENTS HELP!
When you service your vehicle, at one of our two new locations, you receive a free car wash that scrubs the exterior of your car removing road grime. We also have a full-service detail shop that will clean your car, inside and out for $169. We will use a high pressure washer to clean your engine compartment, braking systems and undercarriage of your vehicle. Our detail crew will also wash the exterior, clean your carpets, interior and trim pieces.