About Markley Motors
CONTACT OUR TEAM
Mission Statement: To make a profound impact on the lives of our clients, team members, and community by serving all with uncompromised integrity, empathy, and excellence.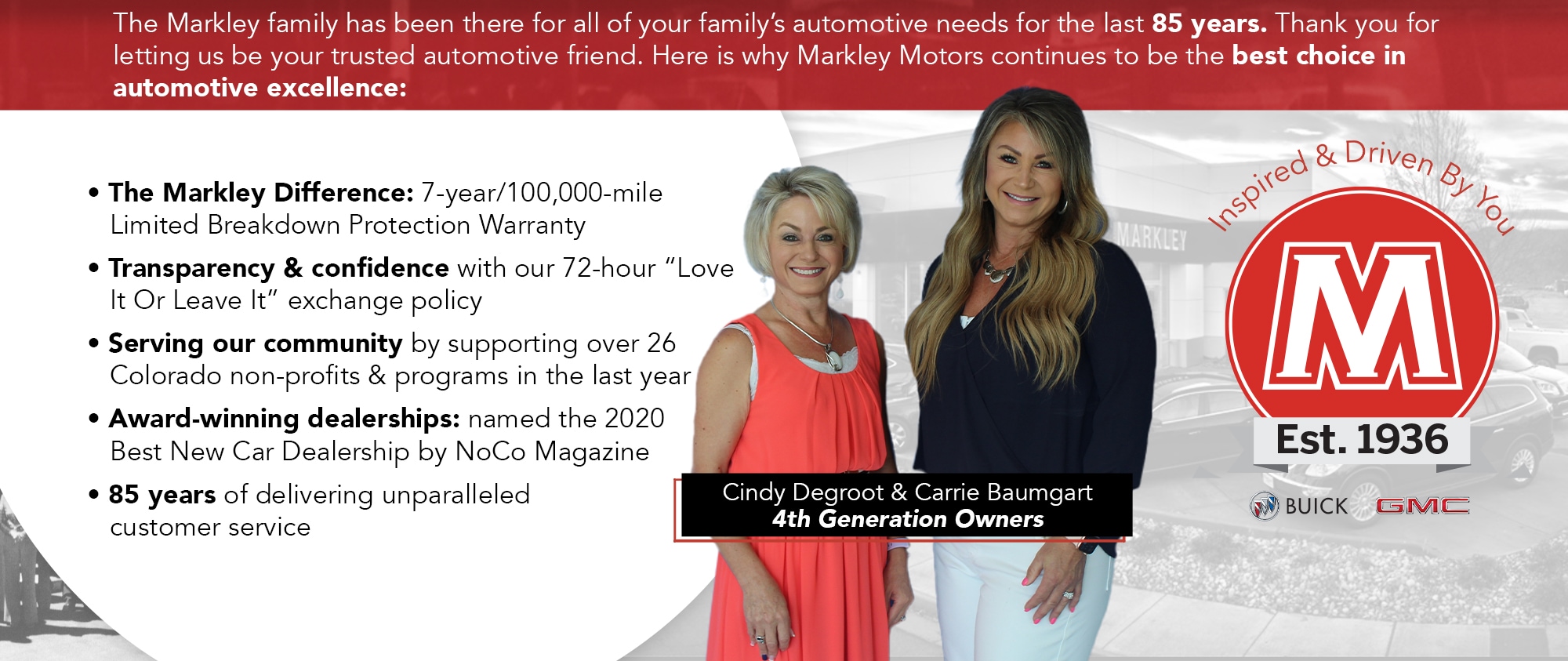 Welcome To Markley Buick GMC, Proudly Serving Fort Collins, Loveland, Greeley, and the Nearby Areas!
It has been our privilege to deliver unrivaled customer service for an incredible 85 years and counting. Welcome to Markley Buick GMC, where we balance elevating your driving lifestyle with promoting a friendly and respectful atmosphere for everyone who walks through our doors. The growth we have undergone since 1936 can be attributed to our various teams' dedication to the satisfaction of our visitors, ensuring supreme service, and providing comprehensive specials. Customers in Fort Collins and from areas across the Centennial State, like Greeley and Longmont, have come to trust us as the premier Buick GMC dealer in Colorado and our rigorous business ethic standards. Read on below about our rich legacy and then contact us to kickstart your shopping journey!


Where We Began
Our start was 85 years ago, when Ferd Markley opened his Dodge-Plymouth dealership at 246 North College Ave. in Fort Collins. His sons, Gene and Bob, started working at the dealership after World War II and soon took over as the owners. In 1959, Markley's purchased a Chrysler-Plymouth Dealership from Art Sheeley. The founder, Ferd Markley, passed away in 1960, and Gene and Bob consolidated the two operations in 1961 within greatly expanded facilities in most of the 200-block of North College. Bob Markley acquired a Volkswagen dealership in Greeley and sold his share of the partnership to Gene Markley.
The fascinating history behind your top Buick dealer in CO does not stop there. In 1968. Gene's son, Doug Markley, joined the business after graduating from Kansas University. In 1974, Honda awarded the sought-after Honda Automobile franchise to the Markley family. The year 2009 saw Markley Buick GMC move to its current location on S. College Ave. People began relying on us to assist them with their vehicular needs, first in Fort Collins and then statewide. The years rolled on, with your No. 1 GMC dealership in CO receiving a modernizing facelift and new ways to better serve our customers. 
"In 2021, Markley Motors is still firmly committed to these important principles!" - Doug Markley